Grand Domestic Revolution GOES ON to Milan!
Grand Domestic Revolution è un progetto in divenire, iniziato da Casco - Office for Art, Design and Theory (Utrecht), che esplora la sfera domestica, immaginando nuove forme dell'abitare e lavorare in comune. Dal prossimo 5 marzo fino al 19 aprile a Careof saranno affrontate le nozioni di spazio urbano e città, ecologia e sostenibilità, attraverso lo sguardo della mostra itinerante Grand Domestic Revolution (GDR) GOES ON.


Ispirata dai movimenti statunitensi del material feminism della fine del diciannovesimo secolo, che sperimentavano soluzioni comunitarie condivise in alternativa all'isolamento della vita domestica e lavorativa, GDR GOES ON coinvolge artisti, designer, domestic workers, architetti, giardinieri, attivisti e altri soggetti a sperimentare e ri-articolare la sfera domestica sfidando le tradizionali e attuali divisioni tra pubblico e privato.
In questa tappa italiana - che fa seguito a quelle di Londra, Londonderry, Lubiana, Stoccolma e Malmö - GDR GOES ON assume una nuova conformazione ed entra in contatto con materiali dell'Archivio Video di Careof e con artisti e designer italiani, creando una nuova coinvolgente visione della dimensione urbana e domestica. 
A Milano, GDR GOES ON ha affidato la realizzazione del set al collettivo di designer italiano AUT assieme all'artista Christian Nyampeta. Concepito per ospitare le opere in mostra e una serie di eventi discorsivi durante l'esposizione, questo allestimento sviluppa una nuova formulazione del concetto di "spazio abitato", a partire dall'analisi del contesto locale e temporale che interagisce con lo spazio di Careof e la città di Milano all'affacciarsi di EXPO, e di tutte le sue possibili ripercussioni.
In che modo questa mostra serve come occasione per riflettere sull'idea di "domestico" come questione sociale? É possibile concepire una forma di domesticità collettiva?
A partire da questi punti cardine, la mostra trae spunto nell'articolazione dei suoi spazi dalle tradizioni estetiche che emergono dalle pratiche radicali nate a Milano - e in generale in Italia - a partire dalla fine degli anni '60, che hanno tentato di trovare risposte alla necessità di forgiare una materialità sociale allargata. Nello specifico, l'ambiente di GDR GOES ON - Milan at Careof è stato sviluppato a partire da una riflessione intorno ai modelli catartici di auto produzione divulgati da Enzo Mari all'inizio degli anni '70, così come alle esperienze elaborate dall'artista, architetto e designer Ugo La Pietra per definire nuove interazioni e sistemi alternativi di abitabilità dello spazio pubblico, o ancora a esperienze collettive e workshop condotti da Global Tools alla metà degli anni '70.
Il nucleo principale di GDR GOES ON - Milan at Careof è costituito da una biblioteca di oltre duecento volumi, raccolti nei due anni in cui il progetto è stato sviluppato a Casco: divisa in varie sezioni, presenta testi che analizzano i temi dello spazio urbano, dello spazio domestico, del lavoro, della vita quotidiana, della comunità, della sostenibilità, dell'economia. 
I lavori presentati in mostra funzionano come "attivatori" di questi temi, elaborando una riflessione nello spazio della mostra e rimandando implicitamente ai testi, che i visitatori sono invitati a consultare per costruire un proprio percorso all'interno del progetto. A fianco di lavori di artisti olandesi e internazionali già presentati nelle edizioni precedenti di GDR GOES ON - tra cui Katerina Šedá, Matthijs de Bruijne, Helke Sander, Travis Meinolf, Angel Nevarez & Valerie Tevere - sono stati invitati a contribuire a questa tappa milanese alcuni artisti italiani che lavorano sul tema della comunità e dello spazio urbano: dalle esperienze storiche di Ugo la Pietra, ai lavori più recenti di Adelita Husni Bey e Park McArthur e Ludovica Carbotta.
In dialogo con i testi e le opere presentate nello spazio espositivo da GDR GOES ON, l'Archivio Video di Careof e il suo recente bookshop sono parte del progetto: il primo con una selezione di video d'artista inclusi nello spazio della libreria; il bookshop ospita invece una selezione di testi preparata per l'occasione da De Rooie Rat, storica libreria di Utrecht specializzata in testi di scienze politiche e sociali.
Per questa occasione, inoltre, Careof ha invitato in residenza a partire dalla metà di febbraio le artiste Doris Denekamp e Jimini Hignett, per proseguire una ricerca sulla relazione tra apicoltura e spazio urbano, già iniziata in Olanda lo scorso anno che ha visto la realizzazione di una pubblicazione dal titolo If Bees are few… . A questa farà seguito nel mese di maggio una residenza dell'artista olandese Wietske Maas, che sviluppa una ricerca sul tema della sostenibilità ecologica nel tessuto urbano, mappando la presenza di flora e vegetali spontanei e il loro potenziale alimentare, in relazione con le diverse tradizioni culturali che coabitano nel territorio di Milano.
A corollario della mostra si svolgeranno nello spazio di Careof una serie di eventi discorsivi, presentazioni e screening, per espandere il dialogo tra le opere, il dispositivo della biblioteca tematica e la comunità - intesa come gruppo in divenire, che si riconfigura per ciascun evento, e accoglie al suo interno interessi, desideri e urgenze evidenziate a partire dai temi in mostra. Apre questa serie la presentazione del catalogo Grand Domestic Revolution Handbook, in occasione dell'inaugurazione, a cui faranno seguito un Read-in di una selezione di testi dalla GDR Library e la proiezione della sit-com del collettivo Our Autonomous Life, per finire nel mese di maggio con due lecture performance in forma di degustazione a conclusione delle residenze di Doris Denekamp e Jimini Hignett e di Wietske Maas.
Sponsor tecnici Campeggi, Bricoman
Si ringraziano i laboratori della Fabbrica del Vapore
READ-IN
Reading Together
Friday 20 March, h 6.30pm
in collaboration with Annette Krauss 
and the Read-in research group.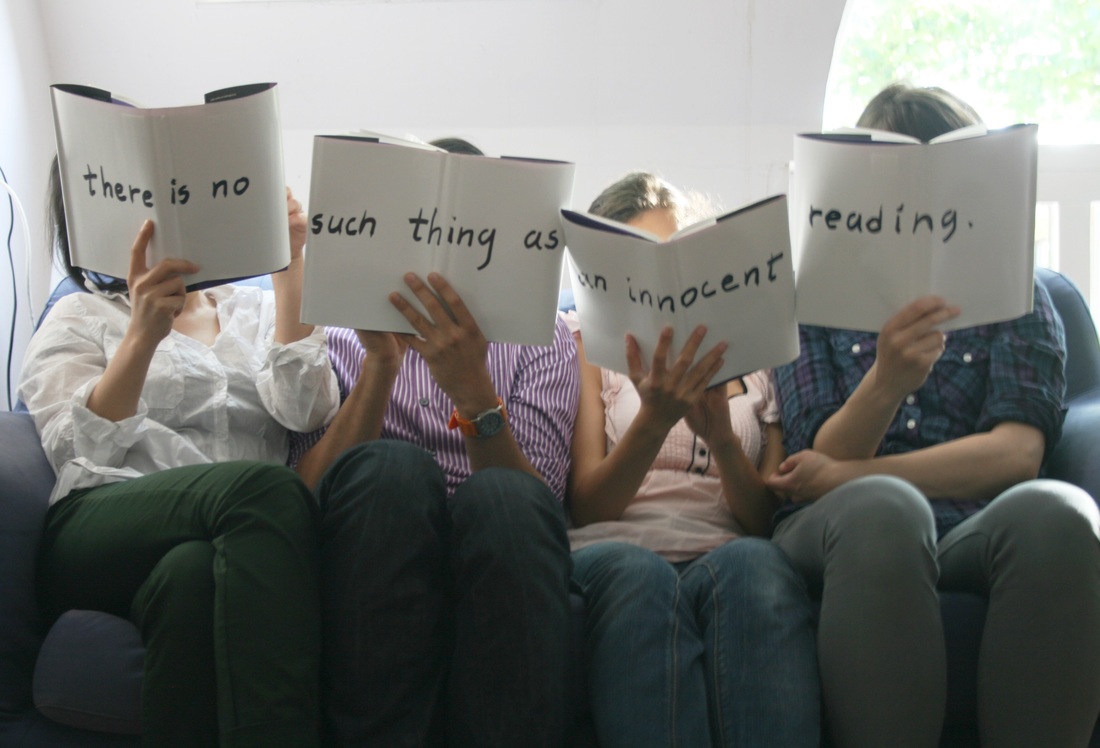 Read-in is a moment of collective reading designed to facilitate instant reading sessions with people. From the idea of the artist Annette Krauss in collaboration with The Grand Domestic Revolution – User's Manual, Read-in is born in Utrecht
(NL) to be a project of lectures door-to-door, which invovles all the "neighbors", with the request of hosting a collective
reading in their private living rooms.
During the Grand Domestic Revolution GOES ON exhibition, whose main fulcrum is represented by a precious collection
of books selected by themes, we thought to open the door of "our home" to a collective Read-in session, inviting
everybody to join us in this experiment of collective lecture.
You can choose to: 
bring your own book from your place, selecting a passage based on some GDR themes like feminism,
architecture and urban space, work, community and social engagement, eco-sustainability.
trust our selection here at Careof by the list of GDR Library.
Read-in opens new spaces to raise knowledge of these materials and with the political and affective dimension of "reading together".
 
 
SPECIAL EVENT GDR GOES ON
26 May 2015
h 7pm
due lecture performance after the residences of Doris Denekamp e Jimini Hignett e di Wietske Maas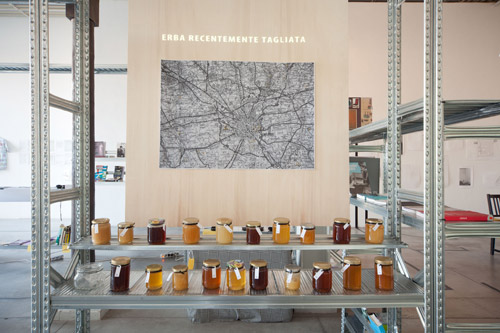 During the Grand Domestic Revolution GOES ON, in collaboration with CASCO (Utretch), Careof has invited to its residence, at different times, the artists Doris Denekamp and Jimini Hignett, who have developed a research between beekeeping and urban spaces, and the dutch artist Wietske Maas, interested in spontaneous vegetation in the local territory and its influence on the human organism and its aesthetic potential. Using the technique of chromatography developed in 1800 by chemist Friedlieb Ferdinand Runge, Maas makes visible the different substances contained in the extract of the plants chosen for their specific relation with Milan's urban territory.
From the same herbage the artist produces a drink, that is offered to the public, creating a parallel between the aesthetic experience of visualization and the sensory experience of tasting.
The artists Doris Deenekamp and Jimini Highnett see honey as an archive or an alternative map of the place in which it is produced. With the help of beekeepers and some honey tasters, the artists will guide the public in a collective tasting experience to suggest a special experience of Milan.
On the 26th of May they will present the results of their researches in a double lecture performance and will involve the public in a taste experience during a convivial moment at the end of the project.